History of the website
This website serves as a homepage for the activities and services of the Gaia Research Institute, including that of PHARMAPACT, my health freedom activism efforts from 1996 to early 2000, by which time I had, through five years of personal sacrifice, rendered the SA Medicines Control Council pretty much altered from a rabid dog into a toothless mutt, in as far as its attempted expropriation of natural health and therapeutic substances to the pharmaceutical sector is concerned.

Continue need hereof
This is not to say that I am proud of this fact, since ever since then the marketplace has been not only in a state of freedom, but also one of total anarchy, which was not my original intention, since I have always strived to eradicate the charlatans from our midst for the protection of consumers. I have and shall continue, on this updated website, to use much of my resources to educate consumers about the more serious threats to which they might be exposed in the name of "natural" and other "health" products.

Reason for this website
I have created this website to assist seekers of truth in evaluating for themselves, which of their and other current attractive popular health beliefs might actually be based more on romantic notions or plain stupidity rather than stark reality and in doing so, avoid these pitfalls not only for themselves, but also for others whom they might otherwise inadvertently influence by usually well-meaning distribution of such delightful untruths or outright commercial scams.

How to Navigate (site-mapping)
Please click on the site map below to initiate loading whilst you peruse the remainder of this page.
(You can conveniently launch selected pages directly from the site map)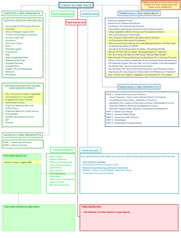 This site has been designed in such a way as to allow significant site mapping of sections of or the entire site via dropdown menus (if Java enabled) by merely hovering one's cursor over the six headings on the homepage and also the Products, Research, Consumer Awareness and Miscellaneous buttons on other pages. I now have a web-mistress on our staff, who in addition to technical aptitude, well-translates my sense of aesthetics into reality, which is important seeing as the website is a public reflection of myself.
The Free Radical pages will serve as a regular launch portal for all things controversial: my rantings and ravings and my pleas for sanity, perspective and consumer caution in the face of a barrage of wickness that threatens not only to steal your money, but even your health. Please feel free to communicate with me via e-mail at director@gaiaresearch.co.za or by telephone (044) 532 7552, regarding any aspect of the topics and material you might encounter here.
No institution can remain independent of vested interests regarding its research and activities unless they are self-funding, which is why there is a commercial component on the fringes of this website, the proceeds of which products, the finest of their class internationally, largely funds the research and health activism components of the Institute. You are invited to support our ecological and humanitarian work whilst simultaneously enjoying the finest products to be had.
Visitors can easily judge for themselves the degree to which Gaia Research stands above all its competitors in the personal and health care sectors by comparing the non-commercial contribution that Gaia Research has made to these sectors in South Africa. You will not find years of personal sacrifice to prevent the insidious erosion and destruction on consumer's health, on any commercial competitor's website and you may advantageously bear this in mind when making product choices in your daily life.